Dear Com­mu­ni­ty,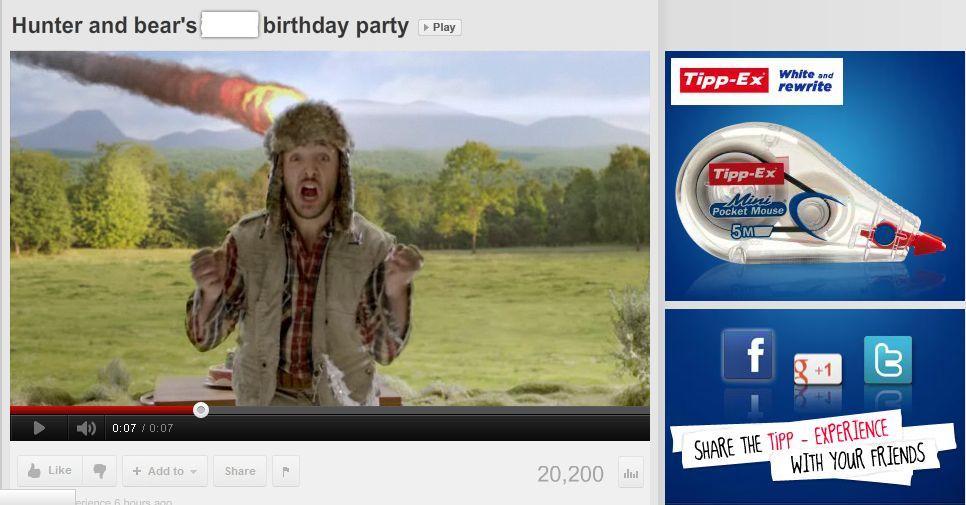 I just watched all of the pos­si­ble incar­na­tions of the Mr. Bear's birth­day on the Tipp­ex­pe­ri­ence 2 — and you must see it! Most are real­ly fun­ny and it is real­ly great how they use Youtube to cre­ate a sequel of the famous first Tipp­ex­pe­ri­ence which gained clicks in the dou­ble dig­its of mil­lions. Here is a List of all the dif­fer­ent scenes. You just type in a year to see the dif­fer­ent scenes:

—
Liebe Leser
Ich habe ger­ade alle möglichen Vari­anten des Geburt­stags von Mis­ter Bär auf der Tipp­ex­pe­ri­ence 2 gese­hen, ein Must-See! Die meis­ten sind wirk­lich gut und es ist wirk­lich großar­tig, wie die Tipp-Ex-Leute Youtube nutzen, um eine Fort­set­zung der ersten Tipp­ex­pe­ri­ence zu kreieren, die läs­sig über eine zweis­tel­li­gen Mil­lio­ne­nan­zahl an aufrufen gekom­men ist. Hier find­et ihr eine Liste aller ver­schiede­nen Szenen. Ihr müsst nur ein Jahr ein­tip­pen und dann seht ihr die Szenen:
before: Error 404
xxx to ‑2.500.000 Dino­raurs — with click effect
-2.000.000 to ‑3601 Cave
-3600 to ‑33 Sphinx
0–1 Birth of Christ
-32 to ‑1;2–476 Ben Hur
477 to 1443 Mittelalter/Artus
1454 to 1788 Mona ähhh Looser?
1789 to 1799 French Revolution
1800 to 1880 West­ern mit Nerf-Guns
1900 to 1928 Slapstick
1929 to 1938 The Great Depression
1939 to 1945 War!
1946 to 1949 Slap­stick again?!?!
1950 to 1959 Rock'n'Roll Strip Babe!
1954 Ger­many wins Word Soc­cer Cup (see also 1966 for a colour shot of the girl!)
1960 to 1968 Psy­che­del­ic Sixties
1966 Revenge on the Wem­b­ley Goal –> Soc­cer, Baby!
1969 Moon Landing
1970 to 1978 Let them Dis­co — you can let them dance!
1974 Beck­en­bear scores…
1979 to 1980 Pack­bear — real­ly hard to play!!!
1980 to 1988 Make your own graf­fi­ty — push it baby!
1989 Break­ing the Wall — just do it!
1990 to 2000 Soap Opera
1998 Soc­cer Word Cham­pi­onship (again the same as the above soc­cer stuff — lame!)
2000 Year

2K

Bug
2001 Who died?!?!
2002 Not again the same soc­cer joke!!!
2003 Gov­er­na­tor — ah Bearanator!
2004 Face­book was born
2005 Youtube!
2006 The same soc­cer joke does­n't get fun­nier by con­stant­ly repeat­ing it!!!
2007 Haha­ha, Apple Phones!
2008 Yes we can!
2009 Michael Jackson
2010 This soc­cer joke sucks by now!!!
2011 Mon­sieur Strauss Kahn
2012 Maya Apocalyse
2013 to 2049 U.F.O.s
2050 to 9999 Tron with Action — Access to your micro­phone riquired!
10.000 to the rest: Gay mar­riage is final­ly legal — or not?!
Wenn Dir der Artikel gefall­en hat, reg­istriere dich kosten­los beim RSS-Feed von NewRules.de.
Und dann gibt es auch noch unsere Sem­i­nare, jet­zt buchen!
Es tut uns leid, dass der Beitrag für dich nicht hil­fre­ich war!
Lasse uns diesen Beitrag verbessern!
Wie kön­nen wir diesen Beitrag verbessern?